Hey guys!
It's the first week of July, meaning we get a brand new set this month! As like all other sets released in the past, this is a review of the newest addition to The Sims 3 Store: Brunch at the Old Mill. This is a store SET (not a VENUE) and I hope you guys enjoy!
Collection File: http://www.mediafire.com/download/tu648lw9npd3vws/BrunchAtTheOldMill.package
This is a collection file to put in your Collections Folder, this is NOT A SIMS3PACKAGE FILE.
AznSensei
Price Breakdown and Information
This build/buy-only set comes with 28 brand new objects, which includes 3 new premium content objects, and is sold for 1450/1700 Simpoints until July 7th, 2014 (Purchase before the date comes) and you can purchase ALL INDIVIDUAL ITEMS separately (except for the premium content and L-Shaped Stairs at a future date).
Below are the prices of all of the individual content:
Grandma's Canning Station: 500 Simpoints
Old Miller Tea Time Tea Set: 500 Simpoints
Old Mill Water Wheel: 200 Simpoints
Storied Tale Stairs: 300 Simpoints
Humble Fireside Circle: 25 Simpoints
Color Me Chimney Top: 25 Simpoints
Color Me Chimney Base: 25 Simpoints
Color Me Chimney Stack: 25 Simpoints
Stone-Faced Rock Fence: 25 Simpoints
The Old Dried-Up Well: 25 Simpoints
Great Grandma's Butter Churn: 25 Simpoints
Shire Gate: 25 Simpoints
Rock Steady Fence: 25 Simpoints
The Way The Moss Grows Stones Steps: 100 Simpoints
Pebble Henge: 25 Simpoints
Hay Now Cart: 25 Simpoints
Tools of the Trade: 25 Simpoints
Clustered Electric Firefly Jars: 25 Simpoints
Grandma's Old Mason Jars: 25 Simpoints
Jars of Electric Fireflies: 25 Simpoints
Middle Untamed Wall Ivy: 25 Simpoints
Left Untamed Wall Ivy: 25 Simpoints
Right Untamed Wall Ivy: 25 Simpoints
Upper Untamed Wall Ivy: 25 Simpoints
Upper Left Untamed Wall Ivy: 25 Simpoints
Upper Right Untamed Wall Ivy: 25 Simpoints
Window in Untamed Ivy: 25 Simpoints
Corn Plant: 25 Simpoints
Cost of Individual Items: 2175 Simpoints
Cost of Set: 1450/1700 Simpoints
Savings: 725/475 Simpoints
While it may seem like there is a lot of decor objects in this set, the value of this set is pretty good for what you are getting. You are paying pretty much over $20 worth of content for only $15, which isn't bad. Taking note that most of the content is decor, so even if the item count is high, it is mostly decor.
Take note that the Storied Tale Stairs come in two pieces, which would be around 150 Simpoints each, which explains why they are 300 Simpoints and also Store-only L-Shaped Stairs. They will NOT be for individual sale until a future date it looks like.
Also, while one may think that the chimney pieces should be priced together as one, take note that a fireplace normally costs 100 Simpoints, while this one costs only 25 Simpoints. The pricing scheme makes up for that so thankfully, the fireplace isn't 100 Simpoints and an ADDITIONAL 25 Simpoints per chimney piece.
One may wonder about the cucumber plant and the corn plant as they are not listed. They automatically come installed with the Grandma's Canning Station and part of the 500 simpoint price point. However, since they are new harvestables included, it would be considered a "discount" (one would say) for getting them with the premium content since they would cost around 150-200 Simpoints each.
Take note that the corn plant in this set DOES NOT unlock the "easter egg" that came with Grandpa's Grove. (More information will be discussed later).
Exchange Lots: The Old Mill
Not Included SEPARATELY AND FREE with this set are uploaded lots that feature the content by SimGuruKitty. She has created two lots that are solely for Sunset Valley: The Old Mill and the Stoney Falls Near The Old Mill Remake.
Both Lots can be placed in 53 and 57 Waterfall Way in Sunset Valley and the links to both lots are below:
The Old Mill: http://www.thesims3.com/assetDetail.html?assetId=8314506
Stoney Falls Near The Old Mill: http://www.thesims3.com/assetDetail.html?assetId=8314505

While the Old Mill is a brand new lot, the Stoney Falls remake just includes the other side of the "faux bridge" created between both lots (very creative not going to lie) and is still the same lot with the new "half-bridge".

While the lot size may not be ideal for everyone considering the Old Mill is a 36x47 Lot size, One could use a 50x50 lot and place it and arrange it how they wish (recommended lot size). Other than the issue with the lot size, the lot is built beautifully and has some nice features inside and outside of the lot.

Below are the images of the Old Mill:











Premium Content: Old Miller Tea Time Tea Set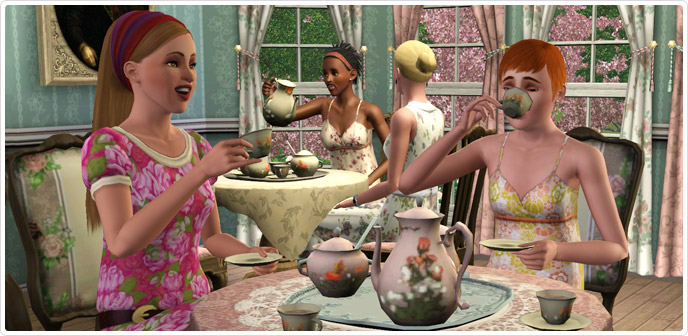 Included in this set are three brand new premium content objects, and this is one of the first three. This one is a tea set called the "Old Miller Tea Time Tea Set." This item is currently not sold separately at this time, but may be sold in the future for 500 Simpoints.
Below are the designs of the tea table:
The Old Miller Tea Time Tea Set is unfortunately not a tea set object, rather than a tea TABLE with a tea set on top. The function of the tea set could be treated similarly like a chess/games table where you can put up to four chairs on the table and have the special interactions with the tea set.
There are only two actions with this set and they are the following:
Make a Cup of Tea
Serve Tea
Both have the same interactions and the only difference is that Make a Cup of Tea makes only one cup for you, while the Serve Tea makes multiple cups of tea based on how many chairs are attached to the table.
Sadly, there are no other actions such as "Ask to Join" or "Drink Tea With" as you will have to control the other sim to go to the table with you to drink tea (missed opportunity). Also, I wished the Serve Tea would give you options on which sims to serve tea too that way the table would put the que into the other sims in the lot. I find this premium content lovely, but at the same time disappointing and more could have been brought to the table (no pun intended) for a 500 Simpoint premium content item. You can still socialize while drinking tea, which is nice.
There are also no moodlets or anything else other than watching your sims drink tea, and honestly I think the price for this premium content should be 300-400 Simpoints due to the heavy limitations it can bring to your gameplay.
Below are the interactions your sim makes when performing both actions:
Premium Content: Grandma's Canning Station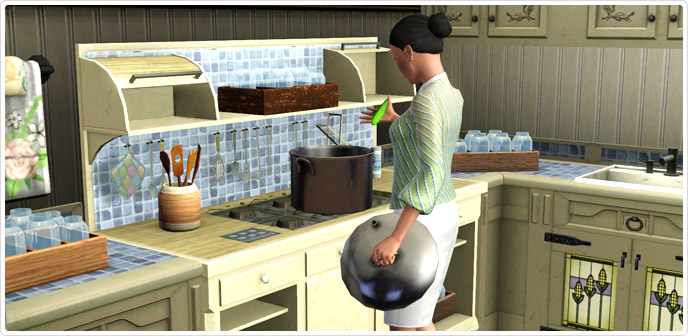 The second of the three premium content is the Grandma's Canning Station, which will be sold for 500 Simpoints in the future. This premium content object is another cooking object that introduces new recipes for jams or preserves.
Below are the different designs of the canning station:
You can make a whole variety of preserves and jams depending on what harvestables you have in your inventory and the list of different types will be posted at a future date.
In order to create preserves/jams, you will need three of one harvestable and after you put three of them into the canning station, you can proceed to make your Preserves or Jam.
List of Preserves/Jam:
Preserves:

Corn
Pickles (Requires Cucumber Harvestable)
Banana
Carrot
Apple
Maui Bean
Grape
Lemon
Cocoa
Strawberry
Watermelon
Blackberry
Lime
Lettuce
Pear
Blueberry
Orange
Kona Bean
Purple Eggplant
Bell Pepper
Garlic
Truffles
Pumpkin
Pecan
Raspberry
Plasma Fruit
Midnight Bean
Cortado Bean
Red Berry Bean
Tomato
Peach
Onion
Potato
Cherimola Blan Grapes
Avornalino Grapes
Cherries
Cranerlet Nuala Grapes
Gralladina Fran Grapes
Meloire Grapes
Plum
Pomegranate
Pomelo
Pickled Egg (Requires Egg)

Jam:

Relish (Requires Cucumber Harvestable)
Banana
Apple
Grape
Lemon Marmalade (Requires Lemon Harvestable)
Chocolate Spread (Requires Cocoa Bean Harvestable)
Strawberry
Watermelon
Blackberry
Lime Marmalade (Requires Lime Harvestable)
Pear
Blueberry
Orange
Pecan
Raspberry
Plasma Fruit
Ketchup (Requires Tomato Harvestable)
Peach
Cherimola Blan Grapes
Avornalino Grapes
Cherries
Cranerlet Nuala Grapes
Gralladina Fran Grapes
Meloire Grapes
Plum
Pomegranate
Pomelo

Produce it cannot use:

Flame Fruit
Life Fruit
Forbidden Fruit
Basil
Bumbleleaf
Buzzberry
Chamomile
Cinnamon
Ginsing
Greenleaf
Lavender
Licorice
Peppermint
Sweetgrass
Wonderpetal
Red Valerian
Ghost Chili
Red Toadstools
Porcini Mushrooms
Spotlight Mushrooms
White Cap Mushrooms
Mandrake
Mycena Mushrooms
Glow Orb Mushrooms
Wolfsbane

Below are the images of most of the jams and preserves included:
Once you open the preserves, you can reuse the harvestable (sadly it's odd that when you open the pickle jar, you get a cucumber and not a pickle) and if you open the jam, you can spread it on toast or a scone (Yes you can have ketchup on a scone... ridiculous!!!).
Other than that, there is nothing else included other than two brand new moodlets that are Jammin' and Yummy Jam. Jammin' is when you create the Jam, an d Yummy Jam is when you eat the food on a scone.
Sadly, you cannot have a scone with your tea when used together. Wished you could interact and use the Jam in your inventory and have a scone while having tea with your other sims. Another missed opportunity.
Premium Content: Old Mill Water Wheel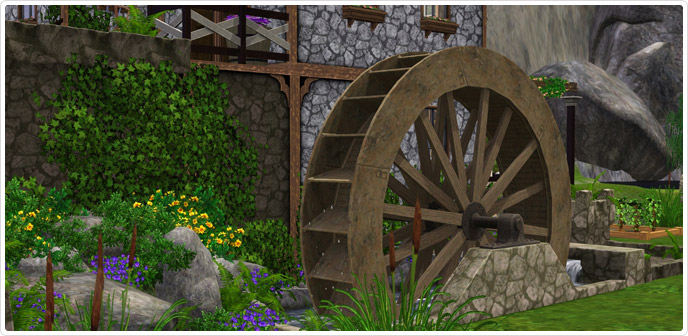 The last of the three premium content is pretty much like the Warbling Wind Chimes as it is a premium decor object. It is called the Old Mill Water Wheel. This object costs 200 Simpoints when sold separately at a future date and has new water sounds and animations.
Below are the different designs of the Water Wheel:
Also unique to this water wheel is that your sims can fish in it (which is interesting). So far you can get random objects and different fish, INCLUDING SHARKS (Makes me wonder what is going on in that wheel).
So far there are no other special features or moodlets and Children to Elders can interact with this water wheel. I did wish there was a "view" animation that is special and your sims can just randomly watch the wheel go round and round or throw sticks and stones onto the wheel (for the more mischievous sims). Other than that, it's a pretty good price considering it's just decor, with working animations and an extra feature.
New Harvestables: Cucumbers and Corn
Two new harvestables that will come installed with the Grandma's Canning Station are the Corn Plant and the Cucumber Vine Harvestables. Please take note that the corn plant is not the "unlocked" one that comes with Grandpa's Grove. That particular plant was more of an easter egg and unfortunately will stay locked and will utilize a third-party mod created by one of the simmers over at Mod The Sims.

One negative I found on these two harvestables was that I was not able to so far find any food recipes to make with them... Kind of disappointed that nothing new can be made with them.

I am saddened that due to the restrictions that store content have to utilize base game coding, it seems like both harvestables have to utilize one of the three base game meshes: Tree, Plant, or Vine. It seems one cannot create a "brand new" mesh for the appropriate harvestable such as a palm tree for bananas or a corn stalk for the corn, but at least we can use the harvestable. If only there were no such restrictions when it comes to store content, so hopefully it will change when The Sims 4 releases new content.
Storied Tale Stairs (L-Shaped Staircase)
Included, but will not be sold separately for 300 simpoints in the future are a classical approach towards the L-Shaped Staircases that were introduced in the Prism Art Studio Venue. The Storied Tale Stairs give more of a victorian feel to these staircases and add some more customization to a simmmer's home other than the modern approach introduced in the other L-shaped staircases that came with that venue. There is only a left and right piece and the pictures are included below.
Despite the fact that they were withheld from the Now & Then Manor Venue introduced a few months ago, they should have been sold separately individually and not withheld from individual sale. Also, I was disappointed that the price was 300 simpoints and should be 200 Simpoints or even less to make up for it being replaced by the chandelier chain and light.
I'm still glad they were released, but it could have been released in a better manner marketing wise. Nonetheless I'm glad I didn't find any glitches or problems with these staircases being installed.
This set contains 25 other decor objects that can be sold separately (except for the L-Shaped Staircases) and all of them cost 25 Simpoints (except for the staircases). I love the design on some of the objects, and in each of the listed objects below, you will find the image, included designs, and a short review on each object.
Humble Fireside Circle
Price: 4,200 Simoleons
Location: Build Mode > Fireplaces
Tile Space: 3x2
Review: A very classical and nice design of a fireplace. It's small, quaint and not too overbearing or modern.
Overall Review
Price: 7/10 - I find that the price is pretty nice being 1450/1700 Simpoints, however it is mostly a set of decor objects and overpriced premium content (in my opinion). Based on what the PC items gave us, the tea set should have been 300 simpoints and the water wheel is more of a tinier form of PC content (even though it is grand). Considering we are hitting towards a later part of The Sims 3, the price would have been nice if it was close to 1000-1200 Simpoints for everything. I am saddened that we are still restricted from purchasing the premium content and the L-Shaped Staircases by itself.
Theme: 8/10 - I love the classical feel to an old mill set that includes content that flesh this out. The premium content and the build/buy items work very well together to bring this sort of theme to life and it was nicely designed.
Lots: 10/10 - Considering that we get a set that has individual items, it was indeed nice to get these lots as extra bonuses and not locked as a venue for other players to not enjoy without purchasing the venue set as a whole. The old mill lot was creatively designed and not to mention the Stoney Falls Remake was a nice addition to further flesh out the lot.
Tea Set PC: 5/10 - I felt like there could have been more with this set regarding interactions and moodlets. Not to mention the restrictions that you cannot invite other sims to join you for tea and do any interesting or funny animations. It would be nice to see an arguing animation and pouring hot tea towards your enemy, or a horrible batch of tea being consumed. Not to mention you cannot eat scones with your tea.
Canning Station PC: 8/10 - Jams and Preserves were a nice addition to add in this set and this premium content pretty much delivered the most out of all of the other premium content. I did find it odd that when I made Pickled Eggs and Pickles that when opening the jar, I get an egg and a cucumber, not a pickle or pickled egg. I also find it interesting to find different harvestables utilizes as jams, but saddened that the scones/toast being covered in the jam are all the same color. I do believe the content is viable with the bakery collection (will need to do some more testing before I 100% confirm this). One of my favorite PC that came with this set.
Water Wheel PC: 4/10 - It's just a glorified decor object and while it's nice and grand along with some amazing water animations and all, it is a bit odd that you can fish sharks and other random things in the wheel. While it's nice that it's 200 simpoints and not 500 simpoints, I hope that people appreciate how low of a price it is compared to how worse it could have been sold for.
L-Shaped Stairs: 4/10 - I feel like even though these were held back from the Now & Then Manor Venue, I still feel these stairs could have been a cheaper price, closer to the 150-200 Simpoint mark rather than the 300 Simpoint mark. Not to mention it's not available for sale immediately. While I do love the classical design of the stairs, I think it could have been added to the store in a better fashion other than being held back (in some form) again.
Corn and Cucumber Harvestable: 3/10 - It seems that players, including myself, probably made an assumption that the corn from Grandpa's Grove to be unlocked with this set, but saddened to hear that it is a brand new mesh and coding. Not to mention the look of the corn is tied to one of the base game plant meshes, which is a limitation of the store. I did wish there was no such limitations, but nonetheless I am glad we get some new harvestables. I did wish we could make popcorn with the corn or do other things. Not to mention I can't really make pickles with the cucumbers as once you open the jar of pickles, you get a cucumber. Also, none of these harvestables add any new recipes other than being part of the jam/preserve category. Opportunities were missed with these harvestables.
Build/Buy Mode: 8/10 - While this set consists of pretty much decor objects, I do like the small things that are included in this set and most of the decor has been designed pretty well and I would consider this fleshing out more of the outdoorsy kind of lot. I think most of the content can be greatly utilized in other types of builds other than the old mill.
Overall Review: 6.3/10 - There were positives and negatives in this set, and I think more could have been given with this set. Nonetheless it is a visually-appealing set to me and I think hopefully we can expand more with what we are given from this set.