Hi guys,
Welcome to another review of the next store set release, known as the Skylight Studio of Performing Arts Venue. This venue set is solely focused on objects for a gym/studio environment and is themed as so. Included are the items that provide the additional gameplay, along with new glass roof sculptures to further customize your creations. It includes two premium content items, one themed for dance, and another themed for gyms.
Collection File:
http://www.mediafire.com/download/k9dsbcudot4cu2s/SkylightStudio.package
Enjoy,
AznSensei
The price of this set is 1700/1900 Simpoints on sale until July 5th, 2013. It comes with 26 Build/Buy Mode and CAS Assets along with a new lot to add to any Sims 3 World. I am still kind of happy that they introduced the early bird special on this venue, as the last venue did not get any special discount. The problem that still exists is that the items included in this set are specifically tied to the venue, and you will not see ANY of the items (including the Premium Content) sold individually for a long time, unless you find it in build/buy mode in-game.
The price breakdown of this set is as follows:
Stiff as a Board, Light as a Feather Dance Collection: 500 Simpoints
It's Not Gross Public Shower: 300 Simpoints
Gym Lockers: 100 Simpoints
Exercisinator: 100 Simpoints
Revivify Hot Tub: 300 Simpoints
Stacked Lights: 50 Simpoints
Flex and Stretch Wall Poster: 50 Simpoints
110% Treadmill: 100 Simpoints
Unmatched Mismatch: 50 Simpoints
Workout Capris: 50 Simpoints
Bewitching Bun: 100 Simpoints
Party on the Side Hairstyle: 100 Simpoints
Punk and Proud Top: 75 Simpoints
Draped Tank Top: 75 Simpoints
Wazzup Workout Sweats: 50 Simpoints
Like a Glove Workout Top: 50 Simpoints
All-out Dance Outfit: 50 Simpoints
8 x Sharper Edge Skylight Roof Sculptures: 8 x 50 = 400 Simpoints
1 New Window: 100 Simpoints
Total Individual Item Cost: 2600 Simpoints
Set Cost: 1700/1900 Simpoints
Savings: 900/700 Simpoints
I think the price seems pretty "okay" for being sold via the store, but I think the price is worth it mainly for the new roof sculptures and gym equipment. One of my favorite items actually is the lockers themselves as it would fit so well in a user-created locker rooms for their own gyms, and actually gives you the feel of a gym! I personally do not like the clothing, nor do I think it grabs my attention at all, so to me, I don't plan on utilizing the clothing and wish that the Store Team would stop combining clothing and build/buy content together in a venue set. I think a fleshed out Build/Buy Venue set would have been nice for this and then release a separate fleshed-out clothing set to correspond with it.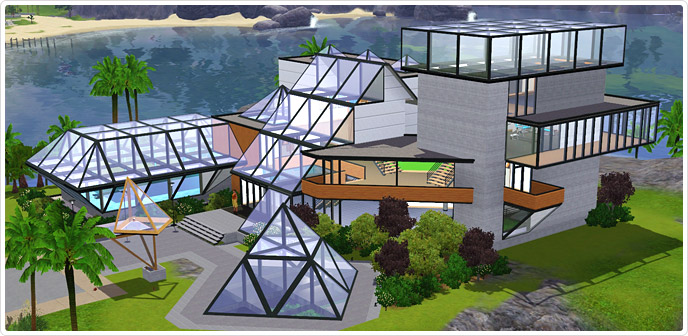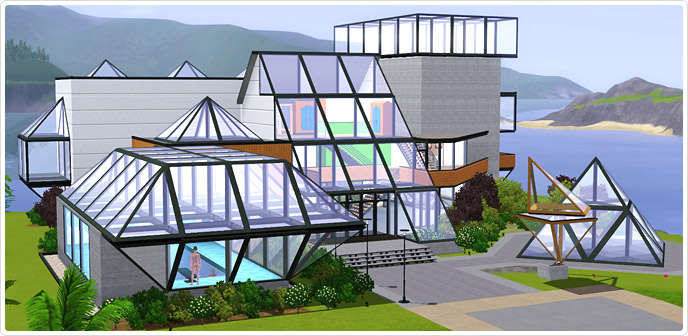 The venue itself is a 40x40 Commercial Lot designated as a Gym. In the preview pictures of the set, you can see that it was placed in Sunset Valley (but replacing the Wolff Household). However, this gym can fit in many other worlds that you can place it at and is very useful to replace any other gyms. Personally, I do find the modern look of this Gym fairly nice, but I do feel like a builder could have done a better job utilizing these objects.
Thankfully, the cost to build the venue is not really part of this set as there is enough objects included to make it worth getting. I do find that here are so many flight of stairs in order to reach one particular area of the studio, and I did wish this gym was more "convenient" for players to walk into. While it may be creative, the time it takes to work out can be a drag (to me personally). The pool area also seemed lackluster, and it would have been nice if they just made it a Dance Studio/Pool Themed Venue focused on those two features rather than more gym equipment and a dance studio.
The Stiff as a Board, Light as a Feather Dance Collection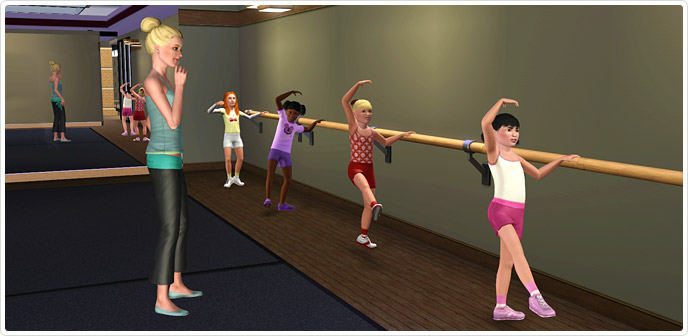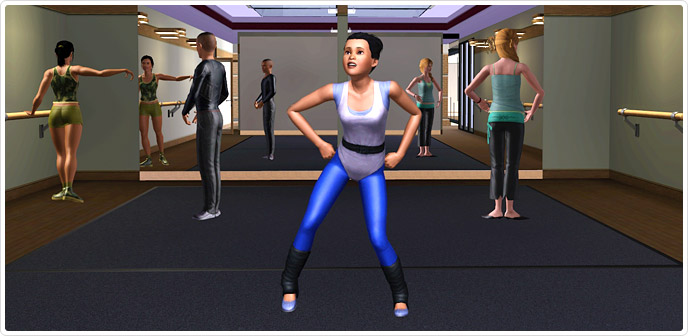 The Stiff as a Board, Light as a Feather Dance Collection is a combo of two premium content items (well one seems more premium than the other) and costs 500 Simpoints if sold individually in the future. This particular collection is tied towards the animations of Ballet Techniques and other Dance Skill-related animations.
There are two items in this collection: The Light as a Feather Ballet Barre and the Stiff as a Board Dance Floor. The Dance floor does not look like something new, rather a remake of the dance floors of Late Night.
In the Light as a Feather Ballet Barre takes up a 2x2 grid and your sim can choose two different interactions: Exercise or Warm Up.
Doing either interactions will have your sim exercise and improve their Athletic Skill. There is no difference between the too, which makes this disappointing. At level 6, your sim will also gain a third interaction called the "Train" interaction, which will make it easier to "train" your techniques in dance. If you have Generations installed, children can learn the Pirouette, Echappe, and Plie moves on the barre.
Personally, I feel like when it comes to interactions (as a dancer myself) there would be such interactions like "Practice Stretching On Bar" or "Practice Pirouettes", or even helping with extensions. There is much more to be utilized from the dancing barre and it would make the animations nice to see rather than have your sim look like they are working out. While it is nice for children to use it in their early stages, I did not enjoy the lack of interactions with this particular item for other sims.
There are two moodlets that are obtained from the Ballet Barre, they are the Glistening Moodlet and Elegant Swan Moodlet.
The Stiff as a Board Dance Floor is like I said, a remake of the Dance floor from Late Night. It covers a 5x5 grid and the colors can be shown below:
This mat just has different options in terms of what dance you want to do, and normally people can spot these dances without the mat. There are some nice new dances (I think it's new?) such as Club Dance, Ballet Dance, and the lovely Chicken Dance. Other than that, there is nothing else new with this.
The It's Not Gross Public Shower Station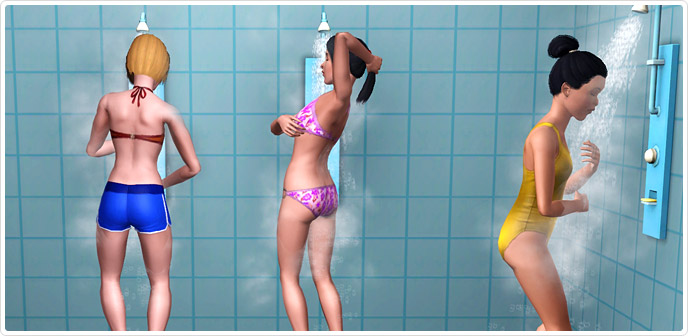 The It's Not Gross Public Shower Station may look like a remake of the Keep Me Clean Outdoor Shower from Serenity Retreat, but there are some differences between the two and should be compared before reading the remainder of this particular part of the guide.
Note: They are not ACTUAL Premium Content Items, rather "Mini-Premium Content." With the price of 300 Simpoints for the Public Shower Station, it doesn't surprise me that it just operates like a normal shower, except with clothed sims.
It's Not Gross Public Shower
1. It cannot be placed anywhere, it must be placed in a wall.
2. It has a small drain that blends with the flooring
3. Sims are clothed when taking this shower
4. You must enter from the left side of the shower, not the front
Keep Me Clean Outdoor Shower
1. It can be placed anywhere without a wall
2. It has a big wooden drain that may/may not blend with the flooring
3. Sims are clothed when taking this shower
4. You must enter from the left side of the shower, not the front
While they may be identical, I find the Public Shower more useful for builders rather than the Outdoor Shower itself. Personally, it would be nice if sims can be nude next to each other when taking showers as that is a NATURAL thing that you find in the gyms, but of course the base game coding can't be adjusted by the store when it comes to naked sims in the room. However, this is close enough.
The shower itself is also a nice design and I like it compared to the outdoor shower. Personally, while it may not be worthy of Premium Content, it is to me as a builder when building my own showers. I feel like I can make walls and a door and make my own personal shower with this particular object! I plan on utilizing more creative things with it.

The downside with the shower is that you still require some room around the shower, meaning you can't have the shower take one tile. You need it to occupy 2 tiles, and there has to be room on the left side of the shower. This kind of bugs me as it would be nice if your sim can just walk up into it on the front, rather than the sides. It does restrict how you place objects so even if something small is in the way, your sim will not route to it.
The Sharper Edge Skylight Roof Sculptures
This 8-piece roof sculpture set brings more variety when building with glass roofs and adds more creativity when it comes to building. Not only can you use this mostly for decor, it functions much like the glass pieces from the Stones Throw Greenhouse pieces. It is recommended that you place tiles before you place these pieces, so that the tiles can pile up snow (Seasons Feature) and your pieces will hide those tiles. It is still tricky to use these tiles as you can make a nice architectural work of art in a small grid of your lot, but at the same time can be an ugly thing if it messes up your building.
Included is also a window that is featured and designed like the roof pieces and also adds more creativity. Personally, I kind of wished they occupied 3x2 rather a 3x3, to make more sleek-looking homes, and take up less space. I guess the Store Team likes 3x3 quite a bit. So be warned that your need to make sure that your builds can take so many pieces.
These were the main draw to me as a builder, but at the same time can be a tad disappointing and difficult to utilize at the same time. This particular portion of the set isn't the best for beginners and a tutorial would be needed in order to utilize the content in this venue to its fullest.
Remaining Build/Buy and CAS Assets
The remaining Build/Buy and CAS portion of this set are composed of content themed for gyms such as exercise equipment, a new decor object, lights, and a random hot tub (which does not make sense yet again in a set like this.....). Anyways, the clothing is also designed for Athleticwear and no surprises that it focuses mainly on women, YA/Adult, and neglect mostly men, children, teens, and elders. Anyways, below are all of the pictures.