Hey guys,
It's the first week of March, meaning it's time to review the newest store set released for the month: The Bohemian Garden. While it may be confusing and look like a venue set, it is actually just a build/buy with clothing set, with all items sold individually (except for the premium content of course). This set is sold for 1450/1700 Simpoints (Until March 10th) and consists of 13 build/buy and 10 cas assets, along with the premium package of 8 brand new harvestables.
Hope you guys enjoy the review,
AznSensei
Price Breakdown
This set has a variety of new content and of course, below is the price breakdown of all of the items included in this set:
Wonderfully Woven Hanging Chair: 100 Simpoints
Happily Hippie Patchwork Pouf: 50 Simpoints
Simple Idea Lantern Hanging: 25 Simpoints
String of Inspiration: 50 Simpoints
Simple Idea Lantern: 50 Simpoints
String of Inspiration (Wall): 50 Simpoints
One with Earth Garden Gazebo: 300 Simpoints
One Love Rose In Vase: 25 Simpoints
Whimsical Wildflowers: 25 Simpoints
Wonderfully Wild Flowers: 25 Simpoints
Care-Free Wild Flowers: 25 Simpoints
Timeless Tulips: 25 Simpoints
Woodsy Wedding Arch: 100 Simpoints
Fabulous Floral Dress: 75 Simpoints
Dainty Dress and Jacket: 75 Simpoints
Athletic Dress: 75 Simpoints
Multi-colored Skirt: 75 Simpoints
Bubble Sleeve Dress: 75 Simpoints
Asymmetrical Cowgirl Shirt: 75 Simpoints
Dainty Dress and Jacket Elder: 75 Simpoints
Straight Cut Bangs and Hat: 100 Simpoints
Straight Cut Bangs and Bandana: 100 Simpoints
GoGo Boots: 25 Simpoints
Bohemian Fruits and Nuts: 400 Simpoints
Total Cost of Individual Items: 2075 Simpoints
Cost of Set: 1450/1700 Simpoints
Savings: 625/375 Simpoints
There are some price discrepancies within the set such as one of the lights being 25 simpoints, while the others are just 50 simpoints. It must have been a mistake as the detail of the hanging light is the same as the floor light, meaning it either should be 50 simpoints or the other lights should be 25 simpoints. Lack of consistency here. :\

Also, you would think by now that when it comes to CAS, tops/bottoms should honestly be 50 simpoints and the outfits themselves should be 75 simpoints. The pricepoint that any piece of clothing is 75 simpoints sometimes doesn't make sense.
My other issue is the price of the Gazebo as even though it looks amazing and nice, 300 simpoints is a bit much for a single object. We were given tons of other objects that do almost the same functionality (even though it's smaller) such as the tents from the Renaissance Faire and the Pavillons that came with the Boardwalk Venue. Honestly, I would give the price at 100-150 simpoints at most.
There is also another discrepency with the premium content itself. One may think "wow, 400 simpoints for 8 new harvestables? what a rip-off." Personally, I do think that while harvestables may not seem to be premium-content worthy, do take note that all of the other harvestables in the store have been released with the associated premium content: Humble Harvest Stands + Lemon/Eggplant and the Tractor + Orange Trees. Therefore, there has never been a harvestable that has been sold outside of the premium content, meaning a premium set of harvestables would not be out of the ordinary. Also, I personally do think that with how the coding of harvestables would work and everything, I consider them worth more than your average chair/table, making it around 150-200 simpoints. So you are basically getting 1200-1600 Simpoints worth of harvestables for only 400 simpoints, which isn't bad.
The 1450 Simpoints is not a bad price for the content you are getting and honestly, if you don't like all of the objects, you are more than welcome to just purchase the individual content.
Theme
Last month, the store team said that the next set (this set) would be one of many sets of a Sims 2 Stuff Pack that was released. Many simmers, including myself, had hope it was part of Mansions and Garden Stuff as it was one of my personal favorites and there was a severe lack of outdoor and house/roof decor content that still needs to be introduced into The Sims 3. Personally, I am glad this is part one and I think the theme may seem whimsical and hip, but also beneficial to give us the idea that the next "TWO SETS" (confirmed via twitter) will go along with this one, meaning Mansion and Garden Stuff is definitely going to happen.
We were given bohemian clothing, but a lack of furniture that goes with it and personally I love the theme and concept of an outdoor living area, which is perfect for this set along with a chair that ISN'T A FREAKING 4-LEGGED REHASH (Sorry for the caps, but I'm actually excited it's a creative-looking chair) and other objects that come with it. I just hope in the future we will see more of the "Mansion-side" of things and see brand new roof decor and "Grand Staircases". *crosses fingers*
Premium Content: Bohemian Fruits and Nuts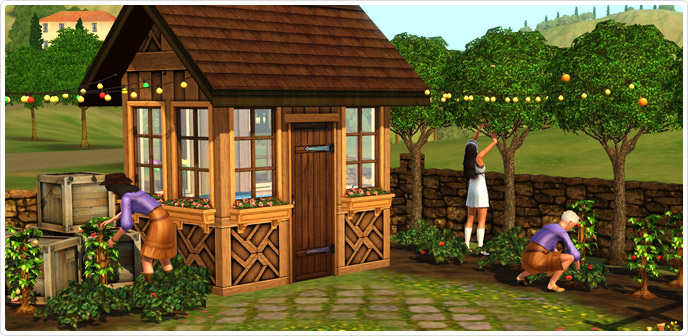 Don't let the shed confuse you, because that isn't a premium content object, it's just a built garden shed. The premium content introduced in this set isn't technically premium (Mini-PC is the word for it) and is not sold separately until later in the future for 400 Simpoints. This premium content is a combination of 8 different types of harvestables and are "supposedly" hinted at working well for one of the next two sets to come. Included are the following harvestables:
Strawberries
Blackberries
Blueberries
Raspberries
Peach Tree
Pecan Tree
Pear Tree
Cocoa Plant
Why I feel like this premium content may have some worth in the future, is that there is a statement for the cocoa plant as the "Cocoa Beans can be used to make chocolate" (Off the store website). Currently, there is no way to make chocolate, and hopefully this is a hint towards a venue that will utilize these premium content objects (which doesn't surprise me as "works well with these sets = gameplay locked scenario"). Therefore, one may feel "ripped off" for purchasing this content now and not later.
What's disappointing is that the only things you can make from these are just different pancakes and nectars (which requires WA). Other than that, there's nothing special other than getting brand new harvestables.
While it doesn't look like it's premium content worthy and some may say "this isn't premium content, look at the past sets." I'd probably look again. The other harvestables are bundled with the premium content, which make them part of that content in one way or another. Plus, while it doesn't introduce any extra gameplay, there is some things to take note that the goal of premium content (including Mini-PCs) is to expand your current gameplay also. Content like the Uber Toilet, Outdoor and Gym Showers, Wind Chimes, etc. are examples of such Premium Content and new harvestables would also fit around the same category for adding some new recipes.
Also, I would think it would be safe to assume that more recipes will be unlocked in the future, so currently they are nothing more than aesthetics to add to your gameplay and to add to your sims gardens until something new comes out *cough*Bakery*cough*
If you aren't a fan of the harvestables at the moment, hold off on purchase until we see what gets released in the future.
CAS Content
Honestly, when looking at the selection of CAS, it looks quite a bit odd that some of the clothing looks like a mix of the following sets:
Mid-Century Fantasy
Bohemian Women's Clothing Collection
Fresh Farm Folk/Country Livin'
Recolors of Base game content
I do feel like the hairstyles are just a new type of cut, with the same hat/bandana utilized and I think most of the content looks like something that belongs in other sets, but recolored to "fit" into the Bohemian theme. The clothing is not my taste, and personally I think more work should have been put into just a build/buy mode set rather than making it look like the team decided to use content that wasn't used in other sets (from the looks of it) and incorporate it into these sets.
I find it really sad that the clothing was mostly focused on females, especially just YA/Adult. There is like "one" elder outfit, but other than that, it's another YA/Adult clothing and honestly Bohemian clothing for teens would have been awesome with this set. It was a missed opportunity for the store team.
I also did not like the fact there is nothing for males in this set. And just to clarify, there WAS something for males, but it was actually from MMAO and was not intentionally supposed to be in the set and was an accident. So instead of finding a new male outfit, they decided to reduce the set from the looks of it.
There is also some issues I found in this set, especially when one of the clothing is advertised with a cute stencil design. THERE IS NO STENCIL DESIGN FOR THIS DRESS.
I was so disappointed to not be able to find it, and hopefully it's just an oversight and a locked stencil so we can use it in the future. Other than that, the clothing does not grab my attention nor should it be the main thing you should get in this set. I'd recommend either wait for a bigger discount based on the clothing, or wait for the premium content to be sold separately.
Anyways, below are all of the images of the CAS content along with their included stencils.
Enabled for: Everyday, Formal, Outerwear
Enabled For: Everyday, Formal, Outerwear
Enabled for: Everyday, Formal
Enabled For: Everyday, Athletic
Enabled For: Everyday, Formal
Enabled For: Everyday, Formal
Enabled For: Everyday, Formal, Outerwear
I personally find the amount of content in build/buy slightly lacking and I wished there was more to add to it as the "Garden Aspect" of Mansions and Garden Stuff. I LOVE the new hanging chair, the pouf chairs, and the giant gazebo object, along with recolorable flowers also. I am glad they didn't go the route of adding "another 4-pegged chair" or typical past outdoor content and introduced us brand new content. While the plants seem like "low-quality" and boxy (reminds me of TS4 design on two of them >_>), the recolorable aspect is wonderful and I hope simmers can find some creative ways to recolor them to make them blend in more.