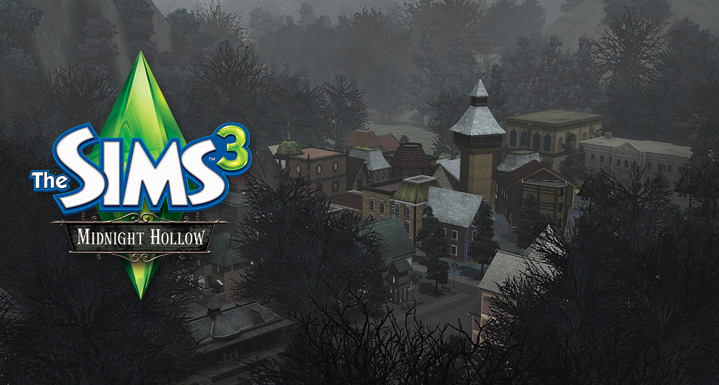 This is very belated, but I will post this for those who do not browse the other fansites/website.
This is what I got from my e-mail:
We've got some exciting news. Today we just announced The Sims 3 Midnight Hollow, the newest world from The Sims 3 Store. Here's what Simmers can expect:

In a faraway land, amidst a forest of trees lies the town of Midnight Hollow. Rich in creativity and entrepreneurial spirit, players will now be able to open their own shops and run businesses as they meet and mingle with the townies. Full of eclectic and eccentric Sims, fans from across the Simsverse will recognize the Specter family from The Sims 2 as popular residents of this charming town. Experience the intriguing world of Midnight Hollow and all it has to offer when it ships later this month.

The Sims 3 Midnight Hollow is a new world for The Sims 3. It includes new Sims, décor and added gameplay with the Savvy Seller's Collection that enables players to open and run businesses in the new world. For more information about The Sims 3 Midnight Hollow, click the website here.
There are also some blogs found here:
Designer's Thoughts Premium Content
Katarina From Midnight Hollow
Lucien Hyde from Midnight Hollow
The Doe Family from Midnight Hollow
Midnight Hollows FAQ + Discussion
When does Midnight Hollow come out?
The Sims 3 Midnight Hollow will be released on September 26, 2013 on The Sims 3 Store.
Will there be a gold and standard version?
There will indeed be a gold and standard version. Details for the gold version will be released at the Live Broadcast on September 17, 2013, so be sure to tune in.
Can I gift Midnight Hollow to my friends?
Yes, you will be able to gift Midnight Hollow to your friends.
Will it be sold in retailers?
No, it will not be sold in retailers, but only via The Sims 3 Store for Simpoints.
Will the Business Premium Content be sold separately?
All Premium Content that are tied to Store Worlds will never be sold separately. You will have to purchase the World in order to get the Premium Content.
What is the difference between the Standard and Gold Version?
- The Standard Version is the World + Objects that are shown in the Items Tab and will cost 2450 Simpoints
- The Gold Version is the World + Objects + Additional Unannounced Objects that will have a Yellow Star on them (See Aurora Skies as an Example) and will cost 4350 Simpoints (Unless put on sale).
What will be the price upon release date? I want to know before I know how much I pay.
The Discount Price will be unannounced until release date. There is no confirmation whether or not the Gold Edition will be sold for 3900 or 3700 Simpoints, etc.
Can I use this Premium Content in other worlds?
Yes, because it's an object, like all other Premium Content from The Sims 3 Store. You can place the Pizza Oven in Monte Vista in Aurora Skies, etc. Just remember that you have to build your own shops if you want them to match the theme in other worlds.